Greens win in Storrington with 48% of the vote in hotly contested Horsham District Council by-election
Today at the count at Horsham District Council, Green Joan Grech, a local candidate, won a resounding victory in the Storrington & Washington by-election with 48% of the vote.
It was a hotly contested campaign, with the high levels of traffic and resulting air pollution suffered by residents of the village of Storrington at the heart of the Green campaign.  Retired civil servant Joan Grech is well known in the village and an active member of two local conservation societies.
Cllr Joan Grech ( GreenJoanGrech@gmail.com ) says, "I am delighted with the result. It is clear the villages of Cootham, Storrington, Sullington and Washington are ready for change. Having spoken to hundreds of residents over the past few weeks it is clear that people are fed up with being taken for granted and ignored. I will be the kind of councillor who is available to residents. Unlike councillors from other parties, I am free to speak up for what is right for all the residents in my ward. I am looking forward to getting stuck in and down to work. Thank you to everyone who voted for me, I promise I won't let you down."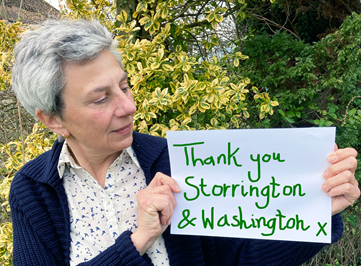 Full results
Green 1281 48% (+48%)
Con 943 35% (-24%)
LD 453 17% (-7%)
LAB 0 (-17%)
The comparison is with the 12 Dec 2019 Storrington & Washington by-election
I am the after-school club manager at St Mark's school, Staplefield and I also work as a classroom assistant in Burgess Hill whilst studying to qualify as a teacher with a BA Honours in Primary Education. I have a big interest and investment in education and making sure schools give children the best start in life. Back in 2019, OFSTED reported that the WSCC child services had 'widespread and serious weaknesses'. They also said that the quality of care from WSCC was 'a lottery depending on where you lived' and so rated the service as INADEQUATE. The commissioners report for the DfE said that there had been 'inadequate and ineffective' leadership of children's services in West Sussex for many years. East Sussex County Council were then drafted in to help improve the running of this service. West Sussex County Council was shown to have missed signs of neglect leading to consequences for some children and their families. Although a new report in 2020 said that the service had improved there is still much work to do to bring it up to the quality that children and their families in West Sussex deserve. We need to make sure that services for our children and young people are properly funded and given the right level of support especially at a time where children's social development has been so profoundly affected by the pandemic - trapped indoors doing home learning. Parent's and children's mental health have suffered and we need to make sure we are doing all we can to help, support, and give our young people their best chance of success.
report by Green Councillor Mike Croker
After its short and ineffective life, the Green Homes Grant has joined many other half-baked, central government, consultant run, initiatives in the great policy graveyard in the sky. At a stroke, withdrawing this plan halves government support for carbon reduction in dwellings from £2.5bn to £1.3bn, with the only bright side being that the remaining money (up from £1bn previously) will be administered by local authorities focussing on low income households.
Is this a strategic move to ditch a widely criticised mess, so that the PM can introduce yet another "world beating path to the sunny uplands" closer to the COP26 date? Alok Sharma MP (President of the UN COP26) has a task on his hands to make this look like good governance.
One little irony here is that some of the 25 to 30 million UK dwellings that need Green Homes improvement would not have needed it if the same central government had not relaxed new building regulations in 2015 when they scrapped the Code for Sustainable Homes. That code proposed new builds from 2016 to be close to zero carbon ('Code 0'), but some of the big housebuilders (eg Persimmon) claimed it was too difficult/expensive... How much more expensive (to build)? About 8% more should get you a Passivhaus, which would be close to Code 0.
HAYWARDS HEATH TOWN CENTRE MASTER PLAN FIASCO
The Master Plan is not fit for purpose
Green Party campaigners are not satisfied that the Haywards Heath Town Centre Master Plan does enough for local residents. The plan should be bolder on tackling climate change to reduce greenhouse gases. Low-traffic neighbourhoods are needed to cut air pollution to protect everyone's health and well-being. Public consultation closed on 21st December. Why did WSCC, who are responsible for roads, not contribute? Why were bus operators, Metrobus and Compass not invited to participate? Proposals to narrow South Road and close the Broadway gyratory without dealing with on-street parking will create chaos. We question proposals to build a multi-storey car park which will just promote more use of cars.
Vaccination centre comes into its own
The abrupt decision to close Clair Hall without consultation caused widespread dismay. Just when we needed a bigger venue to enable social distancing, it was taken away. The blood-donor service has nowhere to go and many other groups who met there regularly have been displaced.
Councillors need to listen to local people, especially when the example of the Martlets in Burgess Hill, demolished without replacement, is in front of our eyes.
Successful legal challenges are continuing
CLIMATE AND ECOLOGICAL EMERGENCY Bill
Report by Green Councillor Paul Brown
The Private Members Bill by Green Party MP Caroline Lucas calls for, far-reaching Government action to tackle the climate and ecological emergency.
The Bill calls for:
* A serious plan to deal with the UK's fair share of emissions and to halt critical rises in global temperatures.
* Our entire carbon footprint to be taken into account – in the UK and overseas.
* The active conservation and restoration of nature here and overseas, recognising the damage we cause through the goods we import.
* Those in power not to depend on future technologies to save the day; technologies that are used as an excuse for us to carry on polluting.
* Ordinary people to have a real say on the right way forward in a Citizens' Assembly that has bite.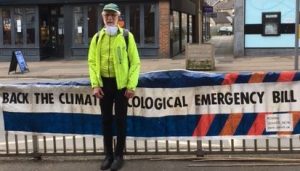 Only Greens have a record of speaking up for action strong enough to tackle the climate change emergency.
Greens are passionate about building a country where everyone has a good quality of life.
Community is at the heart of everything Greens do.